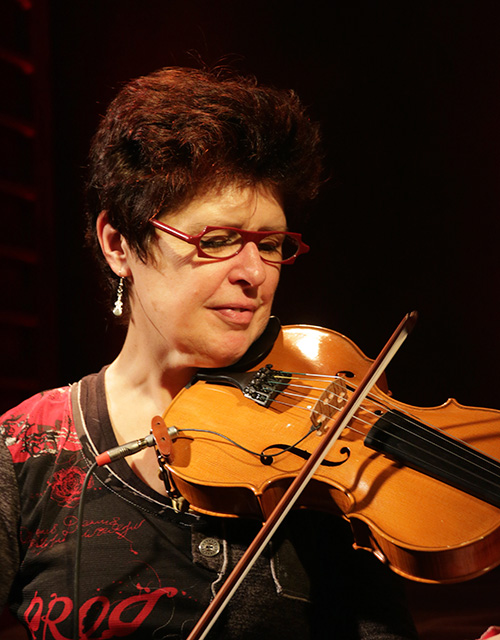 Françoise Derissen, acoustic and electric violin
Françoise got her degree in classical and in jazz violin at the National school of music (Conservatoire Royal) in Brussels, She completed her formation with several intensive courses with first-class jazz violinists Jean-Pierre Catoul and Didier Lockwood. Since 1992, she has performed on many occasions with jazz and jazz-rock bands.,mainly with the following bands : "Opium", le "Triosphère" with Cécile Broché and Antoine Cirri .  With her jazz project entitled There is an effel there, she released a CD with "Mognomusic" label. Since then, she has been performing on Belgian and foreign stages, playing  on music events and festivals
Françoise has also taken part in numerous non-jazz projects, playing –among others– with Christian Merveille, Yann Tiersen, the band Autour de Brassens, and young people's choir of La Monnaie's (for their show  "Le 20e siècle en chansons"). She actually performs with the singer Olivier Terwagne
In jazz, she has performed with the jazz manouche band "Jazzy Strings", and she actually performs in trio (compositions and standarts) with the guitarist Manu Bonetti and Boris Schmidt (Double bass), in trio with the pianist Sabin Todorov and Boris Schmidt (Double bass), and in duo with Marc Van Garsse (double bass) too. As guest, she plays with the italian pianist Mariella Pandolfi
She actually records a new CD in solo with own compositions.
As a guest or session musician, Françoise Derissen has played on many recordings, for example with Christian Merveille, Jean-Pierre Catoul, Einsturzende Neubauten, Daniel Romeo, Fabrice Alleman, Olivier Terwagne, Renaud Lhoest, etc.
She has taught at the Departement Conservatorium van de Hogeschool in Ghent
In summer 2016, she taught and played violin jazz in the festival "Clazz international" in Italy.
Since 2001, she has been teaching jazz violin at  music school in Marchienne-au-Pont, at the National school of music (Conservatoire royal) in Brussels (since October 2006). She also teaches  violin at the music school in Jumet