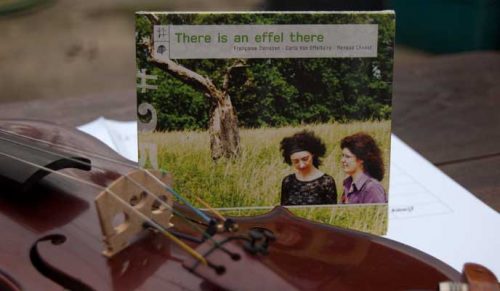 Françoise Derissen: violin, viola and compositions
Carla Van Effeltaire: piano and compositions
Renaud Lhoest: arrangements
Holder of a degree in classical violin and chamber music awarded by the Royal School of Music in Brussels, Françoise Derissen soon became enamoured of jazz, especially the one that takes its roots in improvisation and emotion, away from the more mental approaches. Françoise studied jazz with Jean-Louis Rassinfosse at the same school and completed her jazz curriculum by attending several workshops with Jean-Pierre Catoul and Didier Lockwood.
Carla Van Effeltaire got her "first prize" degree in classical piano at the Royal School of Music in Antwerp. When she starts playing, you soon know she is a musician with a story to tell.
Françoise and Carla have composed all the pieces that make up this first album. They have a genuine and spontaneous interest in each other's approach, both as a composer and as a performer. For this CD, they wanted something open, diverse and colourful. They wanted to mix various styles and influences, with Latin rhythms as well as swing, folk, rock and jazz-rock elements, all firmly resting on their common classical background. Undoubtedly, this unusual combination makes up the core of their own, truly personal style.
On this CD, composer Renaud Lhoest's arrangements carry Françoise and Carla's inspired compositions to new heights, all the more so as they are performed by outstanding musicians, including Michel Paré (trumpet), Kurt Budé or Antoine Prawerman (clarinet), Benoît Vanderstraeten (bass), Fred Malempré (percussion) and Dik Van Der Harst (bandoneón).
Underneath the flow of notes and beyond the virtuosity, the heart of this music reveals itself to the listener: tributes, an urge to move and groove, emotions based on everyday events, big or small, and a clear inclination for poetry. Various technical challenges make their music even more exciting: 5-beat bars, 13- or 42-bar pieces, contrapuntal playing, etc. All these techniques are used to create a sound and are there to serve punchy and groovy melodies. Listening to Françoise and Carla's music, one cannot but feel their obvious pleasure of playing together. The result is a music that comes across as generous and very feminine.