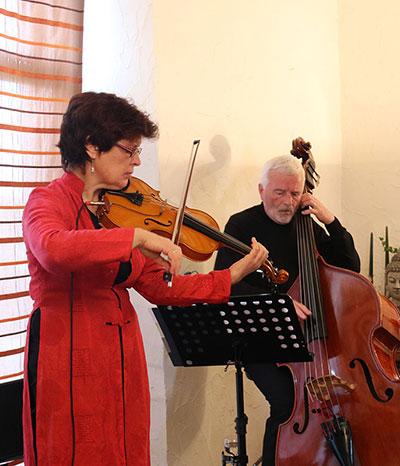 DUO FRANCOISE  DERISSEN & MARC VAN GARSSE
The DUO DERISSEN & VAN GARSSE has started in the end of 2012.They bring a mix of jazz standards and own compositions. The combination of only violin and double bass is original in jazz, and offers very interesting possibilities. They take you into the exploration of a universe with rich harmonies, melodies and rythms. They perform regularly in jazz clubs, small cultural centers, or for private parties such as weddings or for home concerts.
DE MUSICIANS
Françoise Derissen
Françoise got her degree in classical and in jazz violin at the National school of music (Conservatoire Royal) in Brussels, She completed her formation with several intensive courses with first-class jazz violinists Jean-Pierre Catoul and Didier Lockwood.
With her  jazz project entitled There is an effel there, she released a CD with "Mognomusic" label. Since then, she has been performing on Belgian and foreign stages, playing  on music events and festivals
In jazz,  she actually performs in trio with the guitarist Manu Bonetti and Boris Schmidt (Double bass), in trio with the pianist Sabin Todorov and Boris Schmidt (Double bass), and in duo with Marc Van Garsse (double bass) too. As guest, she plays with the italian pianist Mariella Pandolfi
Since 2001, she has been teaching jazz violin at  music school in Marchienne-au-Pont, at the National school of music (Conservatoire royal) in Brussels (since October 2006). She also teaches  violin at the music school in Jumet
Marc Van Garsse
When he was 14 years old,  Marc Van Garsse plaid piano with the drummer  Marc Serwir in the young jazz band of Sint Niklaas « The Manathan boys ». They won a competition and plaid in a beautiful festival.
In 1966, Marc has bought a double bass.  The double bass quickly became his instrument of choice. In 1977, Marc became the bass player of the jazz band " Jazzcircle". They plaid in several beautiful festivals as "the Middelheim", the "Gouvy jazz", the "Laren"festival etc… Musicians Marc has performed with include Art Farmer, Dave Pike, Charles McPherson, Charles Loos and Toots Thielemans.
After several years as interior designer, Marc has now a lot time for music. He plays in duo with the singer Lieve Beurghs, in duo with the violonist Françoise Derissen and in other projects.